CHICKASAW COUNTY, Miss. (WTVA) - People in Chickasaw County are still seeking answers after several horses and donkeys were shot dead in September.
More than 10 horses were shot, killing seven of them.
"They were pets they were just standing there and whoever shot them just mowed them down," Owner Dalton Christian said.
Many are seeking justice, even posting to a group on Facebook in hopes the person(s) responsible for this crime comes forward.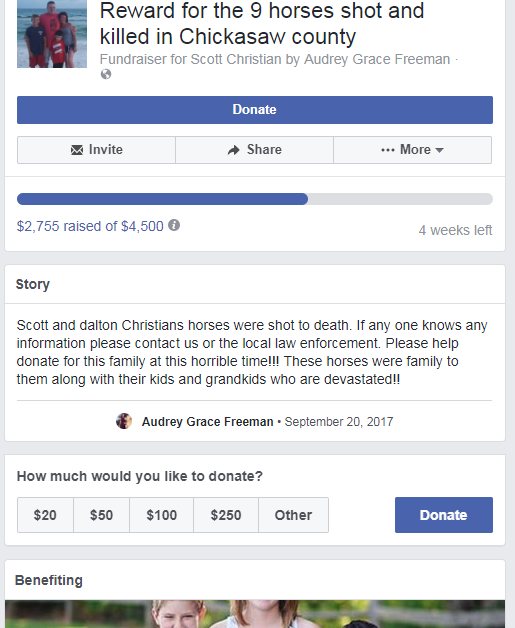 Link: https://www.facebook.com/donate/277162852783335/
Meanwhile, Chickasaw County investigators are still seeking leads.
"This type of case will not go away," Chickasaw County Sheriff James Meyers said. "We're taking it very seriously and we're going to do our best to solve it."
The owners say the remaining horses are recovering and are in good spirits but are timid after the incident.
They say the horses can sense something is just not right.
"They always look for the other horses, they walk with their heads up searching," Christian said.
Two of the horses were pregnant, and one of those horses had to be put down.
"I think the black one (pregnant horse) still has a bullet in her," Christian explained. "Hopefully we can find that bullet because we need it in case they ever find the guns that were used."
Christian also said many people have learned to ride horses on his property and those now gone, will truly be missed by so many.
A candlelight vigil will be held Thursday, October 19 at 6 p.m. near the Houston courthouse.